Comprehensive Powder Coating in Washington
If you're looking for powder coat services in Washington State you've come to the right place. Powder Vision Inc is a full-service powder coating facility. We provide sandblasting, phosphate washing and powder coating under one roof. This is important because we maintain quality control throughout the application process. We can handle all types of residential, commercial and industrial projects.
Our work, which you can see examples of on our gallery page, has supported many markets including, car and motorcycle restoration, handrails, patio furniture, housing development signage, retail store signage, point-of-purchase displays, city signage and maintenance projects, electrical enclosures, lighting fixtures and transportation companies to mention a few, increasing the durability of an endless variety of products.
Our powder coat services offer you the opportunity to: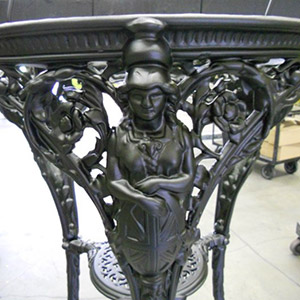 Protect anything metal: Metal powder coating is the perfect protective solution for any metal structure or object. We can powder coat aluminum, steel, stainless steel and brass.
Increase durability: 100% of a successful powder coating project begins with the preparation. Our powder coating process begins with proper cleaning. This may entail sandblasting, for sure an alkaline and phosphate cleaning, or a combination of both depending on the project, such as staircase powder coating. During the cure cycle, the powder melts into the substrate and also cross-links onto itself creating an unbeatable fusion bond with the part that will ensure superior durability.
Provide decorative finish: Check out our powder coating images in Washington to see how powder coating not only extends the life of your products but also offers an ornamental finish to increase their aesthetic appeal.
Go green: Metal powder coating contains no carcinogens, solvents or hazardous chemicals, providing a finish that is safe for both family use and the environment.
Get quality assurance: Our team has over 60 years of combined experience, bringing unparalleled skill and expertise to any project. And before we ship any parts, our quality assurance department performs a complete inspection to make sure the quality is optimal and that you receive the exact powder coat services you requested.
Take a look at some of our metal frame powder coating projects in our gallery, check out our blog to learn more about what powder coating services can do for your products in Issaquah, Preston, or King County, WA, or contact us at 425-222-6363.